For updates, schedule changes and event announcements please consider following us on social media. We are on Facebook and Instagram
Online Scheduler Below
(Click on Desired Class to See Openings!)
Movement classes are limited to 6 students per class. Please reserve your mat at least 1 hr prior to the start of class. If you need to reschedule your class, please do so at least 12 hrs prior to class start to avoid a late cancellation fee.
Active Flow aligns breath with movement in a Vinyasa style class. This practice will focus on alignment and encourage students to meet their bodies with compassion and curiosity. All levels are welcome.
Join us in a class designed for those with overactive pelvic and low back muscles. Learn to ease discomfort by finding supported positions, engage the breath, and find gentle places of lengthening, acceptance, and quiet. Instructed by pelvic health physical therapist.
This class is perfect for practicing relaxation and embodied restoration. With letting go as the goal, you will learn to tune into your body while props are used to fully support the postures. In a time when most of us strive to do more, learning to pause and rest can balance stressful times.
Mid Summer Saturday Practice
with Kate
Drop in classes in July from 130-230.
Come on to your mat after sleeping in, going to brunch, or getting some things done in the morning.
Mid Summer Meditation Practice
with Kate
Meditation as many benefits. Starting meditation can feel challenging. In July we will be practicing Maitri meditation and talking about how to incorporate meditation throughout your day while decreasing barriers and anxiety. Consider pairing your meditation with the Mid Summer Saturday Flow Practice.
"Yoga is about developing a profound relationship to your experience: what arises, what dissolves, and how to work within that frame work to more fully embody oneself."
200 hr OM yoga, 300 hr Yoga Shanti, Relax and Renew®, Yoga4Cancer, comprehensive pilates certification, M.S. anatomy and clinical health science, Doctorate in physical therapy.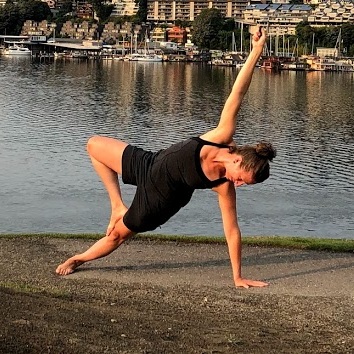 "Yoga is a tool to explore, strengthen, and deepen the mind, body, spirit and brain connections."
200 hr Pacific Yoga, 300 hr Seattle Yoga Arts, Street Yoga Teacher Training, Street Yoga Board President,
"I'm inspired by the movement that occurs between the shapes, the 3 dimensionality of the poses themselves, and in becoming more skillful about aligning intention, attention and action while on the mat and in life. "
200 hr OM yoga, School of Mind Body Centering, Breathing Project, Vipassana meditation studies with David Nichtern and Michael Stone, Ayureda studies with Rene Rosse and Kathleen Lohr.